Hello from Alabama! We look forward to welcoming your child into our faith-centered home that is filled with fun and joy. We are a family who always takes advantage of our time together. Each morning, we hold hands and Karl blesses our day with a prayer. We love to take trips, watch evening game shows on tv, and cook new dishes together.
We will provide a loving and supportive home for your child, with spiritual and emotional guidance, and invest in their education. We look forward to getting to know you and the hopes you have for your child!
Our Story
We met online through a Christian website in 2005. We dated long distance for nine months before getting married. We are best friends and support each other in everything that we do. It's been an amazing 16 years!
We love to travel and explore diverse cultural experiences. We also enjoy spending quality time together playing board games, doing art projects, and having outdoor fun.
Why we chose adoption: Adoption has always been on our hearts. We feel led to adoption after years of fertility issues and a pregnancy loss. Everything we've been through has built up an enormous amount of love in our hearts. We have been blessed with our son, Dylan, and cannot wait to share more of our love with another child.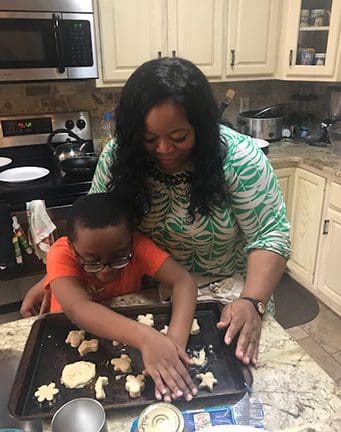 About Melinda
Melinda likes to find objects she can reuse to create new crafts. She is a phenomenal mother who instills spiritual values into our son. She is extremely hardworking and even earned a doctorate while maintaining her full-time job as a director at a prestigious university. I am confident that she will do everything in her power to create a warm and loving home for your child.
About Karl
Karl enjoys reading books and doing home improvement projects. He is a caring and fun protective father. He protects his family above everything and always makes sure that our needs are met. His mother, who is a retired teacher, lives with us and is the best grandma! There is not a day that goes by where he does not make us feel like we are the most important people in the world. I know he would absolutely do the same if we are blessed with another child.
Our Family
Meet Dylan: We have a gentle and compassionate son, Dylan, who loves science and math! We love to spend time together in the backyard bird watching, barbecuing, playing soccer, and swimming. He has always wanted a sibling, so much so that he will describe his cousin as his brother when he talks about him.
We love to:
• Garden and complete landscaping projects.
• Play with our dog and teach her new tricks.
• Play board games on "Friday Family Fun Night."
• Take road trips to visit new cities and try new cuisines.
• Explore new museums, aquariums, and other attractions.
• Take a family trip to the beach every year!
Extended Family: Excitement is never-ending at our home and our extended family recognizes that; they often come over to join in the fun. We always gather for all of the major holidays. Melinda's sister lives five minutes away and we see her and her family often. Karl comes from a much larger extended family who often travel to us from different parts of the country.
Our Home in Alabama
Our spacious four-bedroom home has a large yard and a peaceful view of pasture land with cows that graze along our fence-line at times. Everyone who enters our home says its warm and inviting. We enjoy decorating our home for every season and holiday. The backyard is one of our favorite places! After dinner, we often go on our patio and enjoy the peaceful view of the adjacent farmland. We have flowers, blueberry bushes, and a vegetable garden back there, too!
We live in a small family town that has big city amenities. Our neighborhood is quiet and it is away from the busy traffic. We like to take walks along the river trail, visit the local parks, or make road trips to the beach or mountains.
In Closing
Our profile is in progress and we look forward to sharing more about us soon! In the meantime, we'd love to talk or answer any of your questions. To learn more about us, please call or text Lifetime at 1.800.923.6784.
More About Karl
Education: Bachelors of Science in Criminal Justice
Profession: Probation Officer
Stay-At-Home: No
Racial Background: African American

His Favorites:
Vacation Spot: Santa Rosa Beach, Florida
Restaurant: Outback Steakhouse
Sport: College Football
Dessert: Red Velvet Cake
Book: "Band of Brothers" by Stephen Ambrose
Holiday: Thanksgiving
Hobby: Cooking with our son

More About Melinda
Education: Doctor of Education
Profession: Business Director
Stay-At-Home: No
Racial Background: African American

Her Favorites:
Vacation Spot: Montego Bay, Jamaica
Restaurant: Red Robin
Sport: College Football
Dessert: Hot Fudge Sundae
Book: "The Purpose Driven Life" by Pastor Rick Warren
Holiday: Christmas
Hobby: Science experiments with our son

More About Our Family
Pets
We have one dog, a Shih Tzu named Chloe, who is small, cuddly, and a sweet part of our family. Chloe is a fun and loves to greet everyone who comes over, and she adores children.
Our Values
Faith: We are active members of our church and are both Sunday School teachers. We enjoy fellowshipping with other couples through the marriage ministry and actively supporting the outreach programs.
Education: There are many retired teachers in Karl's family. We believe in creating a strong academic foundation by providing the necessary tools to help your child live up to their full potential.
Family Traditions
• Decorating our home for every holiday
• Making ugly sweaters for Christmas
• Attending church on New Year's Eve
• Taking family vacations twice a year
• Sunday drives with no destination in mind
Fun Facts
Melinda: I love watching Little House on the Prairie!
Karl: I'm a huge history buff!
In Closing
Thank you for learning about our family as you make plans for you and your baby. We would love to share our loving, supportive home with your child, and to include you in future contact, if you're comfortable. Adoption has always been on our hearts and we are excited to grow our family this way! We hope to get to know you and the hopes you have for your baby's future. To set up a time to talk or to learn more, just ask Lifetime about us! We'd be honored to hear from you.